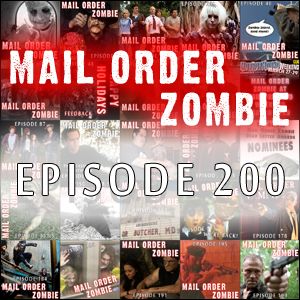 Download Episode #200
here
!
In Episode 200, the Mail Order Zombie Family turns the tables on Brother D and Miss Bren by sending in their own interview questions for the two co-hosts, but that's all at the end of the show. Before the Feedback Discussion, Brother D reviews the short movie
2 Hours
(dir. Michael Ballif), Terror Haute Kent reviews
Warm Bodies
(dir. Jonathan Levine), Silent Death reviews the novelizations of the
Resident Evil
film franchise, Miss Bren settles in for a spoilerific discussion of
[REC] 3: Génesis
, the open nomination period for the 5th Annual Dead Letter Awards kicks off, and . . . Brother D comes clean.
INTRO (00:00)
ZOMBIE BEAT (4:38)
RESIDENT EVIL
BOOKS (5:46)
[REC] 3
(14:44)
DEAD LETTER AWARD ANNOUNCEMENT (1:07:29)
GALACTIC GAMING NEWS (1:08:54)
2 HOURS
(1:16:46)
WARM BODIES
(1:30:52)
FEEDBACK (1:35:40)
Mail Order Zombie Facebook Group -
http://tinyurl.com/facebookmoz
Mail Order Zombie Twitter -
http://www.twitter.com/mailorderzombie
Email us at MailOrderZombie@gmail.com or call us at 206-202-2505!
Galactic Gaming News -
http://www.galacticgamingnews.tumblr.com
Galactic Gaming News Facebook -
http://www.facebook.com/galacticgamingnews
Last of Us
news -
http://www.ign.com/articles/2013/01/22/the-last-of-us-special-editions-revealed
http://www.ign.com/articles/2013/01/24/the-last-of-us-demo-included-with-god-of-war-ascension
Resident Evil: Revelations
-
http://www.ign.com/articles/2013/01/22/resident-evil-revelations-coming-to-consoles?abthid=50ff660a02d45ac22f00005d
Resident Evil 6
-
http://www.ign.com/articles/2013/01/25/resident-evil-6-pc-gets-exclusive-mode
(Some production music produced by Kevin MacLeod.)